The 2020 edition was a big success thanks to the many companies and organisations!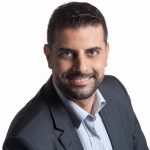 Dr. Charbel Moussa has more than 13 years of experience in energy strategy, management consulting and investment management with a focus on the oil, gas and (petro)chemical sectors. He has a track record of projects in more than 20 countries across the US, Europe and the Middle East, offering energy management related services, renewable energy and clean technology feasibility studies, portfolio scan and assessment, future outlook of technology scenarios and capacity building. In addition, he supported numerous clients with sourcing related environmental certificates, such as carbon or guarantees of origins.
He started his career as originator and investment manager of renewable and clean technologies before moving into consulting 8 years ago. He is a Director at Accenture leading the Energy Transition offerings for the European Energy Industry.
Charbel hold a Ph.D. in Mechanical Engineering and is fluent in Arabic, English and French.
Presentations by UU Alumni
Nationaal Energietraineeship & DNV GL
This session will be given by Joeri Posma & Marian van den Berg, who are both Energy Science alumni (Marian graduated in 2019, Joeri in 2018). Joeri & Marian both work as consultant at DNV GL in the team Energy Markets & Technologies (EMT). Joeri does this via the "Nederlandse Energie Traineeship" (NET or Dutch Energy Traineeship) and will tell you more about this during the session.
The energy transition brings various challenges at different levels that require many different types of knowledge and skills. With a two-year lasting programme, the NET uses an integral approach to create a network of trainees that can contribute to the energy transition and the challenges that come along with it. At the NET, trainees have one day per week trainings on soft skills and personal development, while gaining experience in the field by working four days per week at a company in the energy sector. With over 12.000 employees performing operations in 100 countries, DNV GL is a large organization, making impact in different sectors: Maritime, oil & gas, business assurance, digital solutions and most importantly, energy. In the department EMT, many different topics are covered all focusing on future energy markets, amongst which emerging technologies, market analysis, power price forecasts and electricity generation forecasts. Joeri and Marian will tell about their work at DNV GL with two interactive cases.
Spectral is an Amsterdam-based, end-to-end system integrator specialized in developing and implementing software and hardware solutions focused on smart energy applications. Spectral develops turn-key products and services for energy management, data analytics, flexibility trading, and energy storage, working closely with key stakeholders, including energy utility companies, government agencies, real-estate owners, and energy communities to tackle complex challenges and realize pioneering projects.
Spectral's international team consists of business leaders and experts in the fields of electrical and power engineering, embedded systems, software development, data science, mechanical engineering, and energy law. After four years of rapid development, Spectral is ready to take the next leap forward on its mission to accelerate the transition towards 100% renewable, clean energy supply.
Flip a switch and the lights go on. Simple, right? But you may be shocked to learn that a whole network of people work round the clock to make sure that happens. Northpool is part of that network.
By trading on the energy markets, supply and demand are balanced. Northpool's expertise lies in the trading of short term energy products. Northpool has profound experience in trading power, gas and other commodities. On the short term, supply and demand depend heavily on weather conditions.
Northpool's traders have their focus on these changing market fundamentals. From seasonal forecasts to daily weather analysis, Northpool trades and balances the energy. The traders and analysts are trained internally, to know the dynamics of the markets. They face the challenges and seize the opportunities that arise with the transition of the energy industry.
Alexa Grimm –  PhD at the Copernicus Institute
After graduating as a mechanical engineer in Munich, I first gained experience in a young and ambitious start-up company developing fuel cells and then found my way back to academia. I am now following my passion for researching and assessing innovative technologies for clean energy production by doing a PhD at the Copernicus Institute of Sustainable Development at Utrecht University. My thesis focuses on the conversion of CO2 into carbon neutral synthetic fuels using renewable energy. A major part of my work lies on studying possible processes for carbon dioxide removal from the atmosphere by means of direct air capture. This technology is one of the few negative emission technologies available for achieving net zero CO2 emissions in 2050, and for decarbonizing difficult processes (e.g. aviation, automotive sector). My thesis is sponsored by Shell and set up in conjunction with a large program on Solar-to-Products carried out by the Dutch Science Foundation NWO.
SkyNRG is the global market leader for sustainable aviation fuel (SAF) solutions. Having supplied over 30 airlines on all continents, it is our mission to make SAF the new global standard. SkyNRG sources, blends and distributes SAF, guarantees sustainability throughout the supply chain and helps to co-fund any price gap over conventional jet fuel. At the same time, SkyNRG focuses on developing regional SAF supply chains -e.g., our own dedicated SAF production plant, DSL-01, that offer a real sustainable and affordable alternative to fossil fuels. To ensure we make the right decisions regarding the sustainability of our operations, projects and products, SkyNRG is structurally advised by an independent Sustainability Board, which includes representatives from WWF International, the European Climate Foundation, Solidaridad Network and the University of Groningen. Also, SkyNRG's operations are certified by the Roundtable on Sustainable Biomaterials (RSB), the highest possible certification standard for sustainable fuels.
Sia Partners is a unique management consulting firm composed of passionate consultants who are able to drive business changes among our customers. We are focused on delivering superior value and tangible results to our clients as they navigate the digital revolution. With over 1600 consultants in 16 countries we have a global footprint and expertise in more than 30 sectors and services. In the Netherlands our team consists of sector and service specialists in Energy, Resources & Utilities, Financial Services & Banking, Marketing & Customer Experience, Data Science and HR & Change. Sia Partners is growing and looking for bright and dynamic consultants. We invest in our people, and empower them. We believe that their creativity, energy and dedication deliver our strength. Discover why a career at Sia Partners is like no other. Please come to meet us at the Utrecht Energy Day 2020! Sia Partners is growing and looking for bright and dynamic consultants. We invest in our people, and empower them. We believe that their creativity, energy and dedication deliver our strength. Discover why a career at Sia Partners is like no other. Please come to meet us at the Utrecht Energy Day 2020!
Tauw Group is an international firm of consulting engineers with branches in the Netherlands, Belgium, Germany, France, Spain and Italy with over 1,200 employees. We support clients in a responsible way with clear recommendations taking into account all aspects in the field of the environment, safety, energy, water and the living environment. Our range of services is wide, as is our expertise. We aim to offer integrated solutions, tailored to our customer's needs. Our dedicated people have a great sense of responsibility and care for the environment. In addition to technical expertise, a wide product portfolio and great empathy, there is another crucial pillar in Tauw's consultancy: local presence. We can rely on an extensive network of regional offices in Europe and an excellent worldwide network. This allows us to work closely with our customers and develop long-lasting relationships.
PBL Netherlands Environmental Assessment Agency
PBL Netherlands Environmental Assessment Agency is a national institute for policy assessments in the fields of the energy, climate, and environment. Using insights from various disciplines (technical, economics and governance), PBL aims to integrate quantitative and qualitative perspectives to inform and guide policy making. David and Mike work in the department on Climate, Air and Energy. Looking at various scales – national, European, and global – the department on Climate, Air and Energy carries out policies assessments on how to mitigate and adapt to climate change, reduce air pollution, and transition to renewable energy. 
Working together to create an environment filled with new energy. Stedin is the grid operator of most of the Randstad area, which includes the cities The Hague, Utrecht, Rotterdam, the Rijnmond port area and the Botlek industrial area. Stedin also manages energy infrastructures in the regions Kennemerland, Amstelland and north-east Friesland. We transport energy 24/7 while we are in the middle of the energy transition. These and other smaller challenges are tackled together with our stakeholders. Alongside municipalities, industries, hospitals and the enormous Rotterdam Port, we are developing a sustainable energy system that will be reliable and affordable in the long term. We are constantly working in order to find the most efficient and innovative solutions to tackle the challenges with regard to the energy transition. Together we will develop a sustainable energy system that we can pass on from generation to generation. So, as we say in The Netherlands: 'Genoeg te Doen'. Are you in?
Facility Management (FM) is responsible for facility services and logistics services to and accommodation for all ABN AMRO divisions. It is a varied department with various tasks and topics. In January, for example, we launched a sustainable catering concept (100% PET-free, 85% European ingredients, 40% reduction in food wastage), we have one of the first data centers to use heat-cold storage (which means we have saved 25 million kWh per year), new housing concepts have been developed (Yello for employees and Greene for customers), the Technical Refresh Program will ensure that we will achieve the Paris Proof standard (50 kWh / m² / year) through the renewal of the installation technology and our objective is that by 2030 our core portfolio of buildings will be Paris Proof and all the real estate in which we invest (10% of the Netherlands) will have an average energy label A.
Extra companies at the Company Fair
Ready to change the world around you?
Accenture solves the toughest technological challenges through standout strategy, consulting, digital, technology, security and operations. Working with over three- quarters of the Fortune Global 500, we drive innovation and shape the world around us. With expertise in more than 40 industries and all business functions, we deliver ground-breaking outcomes for a new digital world.
Coming from diverse backgrounds, we work together to solve the most challenging problems with leading-edge technologies. Empowered with innovative tools, continues learning and backed up by a global community, we stay ahead of the game
while making a difference everywhere we go. We empower you to be your best—both professionally and personally. We embrace
who you are, and we invest in your future. Are you ready to join Accenture for a career or internship, where you can be yourself and do what you love?
Balance provides insightful and innovative ideas to governments, water authorities, housing corporations and private companies that operate in the spatial domain. Our consultants are project managers, process managers, financial and technical specialists, contract managers and planners. We work in the fields of energy transition, urban planning and development, mobility and infrastructure and water safety. We provide consultancy on a single and a regular base; external and in house.
Balance has a special team which focuses on the energy transition. This team aims to accelerate the energy transition by assisting our clients with insightful, practical and realistic solutions. Some applicable products that we make are: market consultations to identify partners, business cases for sustainable energy systems, application of SDE+ subsidies, strategic governance, process management in the development of futureproof energy solutions. We apply an integral approach and take all stakeholders into account.
DWA & BlueTerra Energy Experts
DWA
DWA feels responsibility for the the world around us. That is why the consultants come up with smart, sustainable solutions for buildings and areas of tomorrow. DWA is a leader in the energy transition. The innovative solutions of DWA contribute to energy efficient, comfortable, comfortable and healthy buildings. They do this with 120 enthusiastic professionals, who are intrinsically motivated to make the world more sustainable.
BlueTerra Energy Experts
BlueTerra Energy Experts is a specialist and independent consultancy for industry, horticulture and the corporate market. They advise on energy saving and sustainable energy.
ECONNETIC develops, finances, realises and manages renewable energy projects for (local) governments and the business community. As an independent full-service energy consultancy agency, we give clear advice and act as a cooperation partner to really get sustainable energy projects started. We arrange for the funding, think along in the development and ensure the realisation of projects. We have an entrepreneurial team of sustainable energy professionals who give advice and also really act! Using a method transparent to all relevant parties, we ensure a sustainable outcome that – literally – generates energy!
Add Your Heading Text Here