From 5 to 10 November 2022 the study trip was organized for 25 Energy Science students from Utrecht University. The destination for the trip was Copenhagen, as well as a visit to the city of Malmö.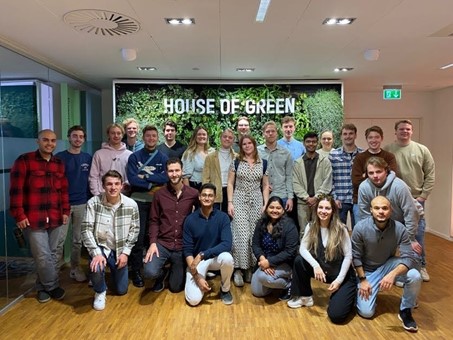 We departed on Saturday morning by train. The travel went smooth, despite the 14 hours it took. We arrived in Copenhagen in the evening and settled into our hostel. The first real day of the study trip was focussed on exploring the City and getting to know each other on. The group got bikes to discover the city for the next two days. Together in the afternoon there was the shuffle boarding activity, and in the evening there was a shared dinner in the Hard Rock Café.
On Monday our first study related activities took place, where the State of Green office was visited. Here we received a warm welcome. The presentation provided a good introduction on Denmark's position in the energy transition, as well as the context for the progression that has already been booked towards a greener country. In the afternoon, the ARC waste incineration plant was visited. The recently built facility was modern in terms of the techniques used. The visit provided more insight into how waste is turned into heat and electricity.
On Tuesday the group went to Sweden to visit Malmö. Here a tour was followed by the Green Roof Institute. Afterwards, many took the option to visit neighbouring city of Lund with its well-known university.
Wednesday was the final full day of the study trip. In the morning the Danish company Ramboll was visited. They gave several presentations with different speakers about their company, their approach to the energy transition, green hydrogen and Power-to-X, wind energy, and working in Ramboll with energy. It was extremely insightful how a company in Denmark positions itself in the energy transition. In the evening we finished the trip in style with shared drinks in the local student bar.
On Thursday we were destined to return to Utrecht. Without many delays we were able to come back home! Overall, the trip was both fun and educational and well worth it! We want to thank Utrecht University Fund (UFonds) for supporting this trip, as well as all the participants that went along on the trip!
Yours truly,
Study Trip Committee NRG 2022
Roel van Wijk, Badsha Haque, Rutger Oudendijk, Stefano Markink, Reinier Derks and Noah Sloots